The Headband is a headband worn in the Head slot.
The Headband has two Viscosity, and takes 2 grist to alchemize. It resembles a clothing item that Homestuck character Rose Lalonde wears.
The Headband can be found on the Character Editor screen, on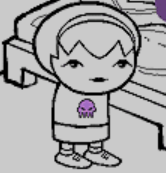 the Explore Atheneum tab while playing Sburb.
Community content is available under
CC-BY-SA
unless otherwise noted.